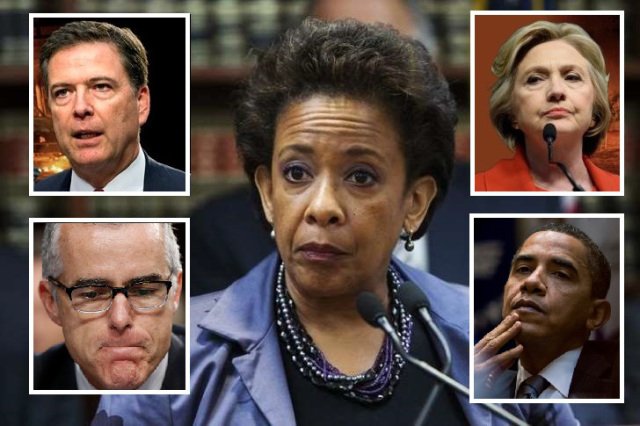 Led by Representative Ron DeSantis congress has sent a criminal referral letter (full pdf below) to Attorney General Jeff Sessions, FBI Director Christopher Wray and Federal Prosecutor John Huber.
The identified targets of the referral include: •former FBI Director James Comey; •former Asst. FBI Director Andrew McCabe; •former Attorney General Loretta Lynch; •former Secretary of State Hillary Clinton; •current FBI Agent Peter Strzok; and •current DOJ Attorney Lisa Page (former Special Counsel to Andrew McCabe).
The identified reasoning for each of the referrals is outlined in the letter below.  However, the risk to James Comey is not simply contained within the letter, but also contained within the non-discussed fact that FBI chief-legal-counsel James Baker is a cooperating witness for IG Horowitz and Huber.
One of the lesser discussed aspects to the ongoing investigative overview is how a few key people, with direct and specific knowledge of the events that took place within the FBI and DOJ activity, remain inside the institutions as they are being investigated.
Those key DOJ and FBI officials have been removed from their position, yet remain inside with no identified or explained responsibility.
Peter Strzok (FBI), Lisa Page (DOJ/FBI), Bruce Ohr (DOJ) and James Baker (FBI) are still employed. Insofar as they are within the DOJ/FBI system it's more than highly likely they are being retained for their cooperation in exchange for some form of immunity.
Other identified co-conspirators left their positions as soon as the IG discoveries began hitting the headlines in December '17, and January '18.
Those who quit include, but not limited to:  James Comey's chief-of-staff, James Rybicki (resigned); FBI Director of Communications Michael Kortan (resigned); DOJ-NSD Asst Attorney David Laufman (resigned).  Each of those officials was named and outlined within the Page/Strzok text messages as a key participant, and quit as soon as the scope of the internal Inspection Division (INSD) investigative material was identified by media.
http://www.investmentwatchblog.com/congress-sends-criminal-referral-to-sessions-wray-and-prosecutor-Huber/