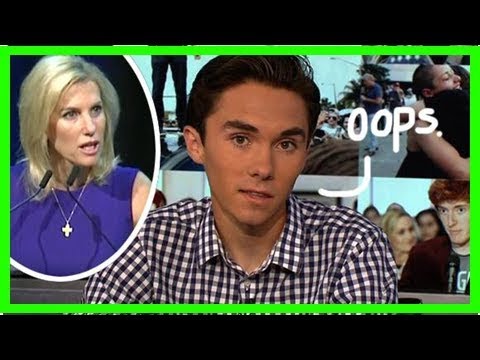 by Ruby Henley
When you hear the interview of David Hogg below, you will be shocked and concerned for the power he is currently wielding in the United States. Further, as I am writing this, I am concerned that I may be ridiculed for even mentioning young Hogg's name.
It seems he is in control of the media and is extremely intimidating to the US people. Laura Ingraham of Fox News made a comment about Hogg, and he complained. She has apologized, but he has refused her apology. He is also calling for a boycott of Fox News. Ingraham is losing advertisers, and you can see the power that young David Hogg is wielding here in our society. It is actually frightening to me, and a portent of things to come.
"Any student should be proud of a 4.2 GPA —incl. @DavidHogg111.  On reflection, in the spirit of Holy Week, I apologize for any upset or hurt my tweet caused him or any of the brave victims of Parkland. For the record, I believe my show was the first to feature David…(1/2)"
As you can see Hogg is angry, and he has spent much of his time recently trying to help with an advertiser boycott against Fox News host Laura Ingraham.
Basically he has made an enemy of her due to the comment she made about him on her show.  However, no one is allowed to mention David Hogg's name without being condemned.
I find this extremely unnerving as he is in the news media 24/7 saying whatever he pleases about his elders and the people of this Country.
Ingraham had tweeted out an article about Mr. Hogg revealing that four colleges had turned down his application and commented that it was "totally predictable."
"David Hogg Rejected By Four Colleges To Which He Applied and whines about it. (Dinged by UCLA with a 4.1 GPA…totally predictable given acceptance rates.)" she wrote.
In my opinion she was basically saying , it was nothing personal against Hogg, and he should not worry about it.  In her own way, she was trying to tell him that was typical.
But Hogg is not to be criticized, yet we are talking about someone who is trying to affect the Second Amendment – oh, well, no big deal – he is a young person – a child, but one who is being used as a poster boy for gun rights by the Far Left.
This is too serious of an issue to be ignored.
If he can make his way around the United States speaking about gun rights, I think we have every freedom to comment on his campaign.  After all, it is a campaign – make no mistake about that.
While the Liberals sit back and praise him, he wields more and more power with the news media.  We know who controls mainstream news media.
I ask that David Hogg respect my rights as an American citizen to comment on what is in the media.  Is that too much to ask?
SOURCE
http://www.investmentwatchblog.com/david-hogg-wielding-power-calls-parents-old-ass-parents-calls-for-boycott-of-fox-news/