The extent of the damage is unknown given that dozens of municipalities remained isolated and without communication after Maria hit the island Wednesday morning as a Category 4 storm with 155 mph winds, the strongest hurricane to hit Puerto Rico in over 80 years. (CNN image)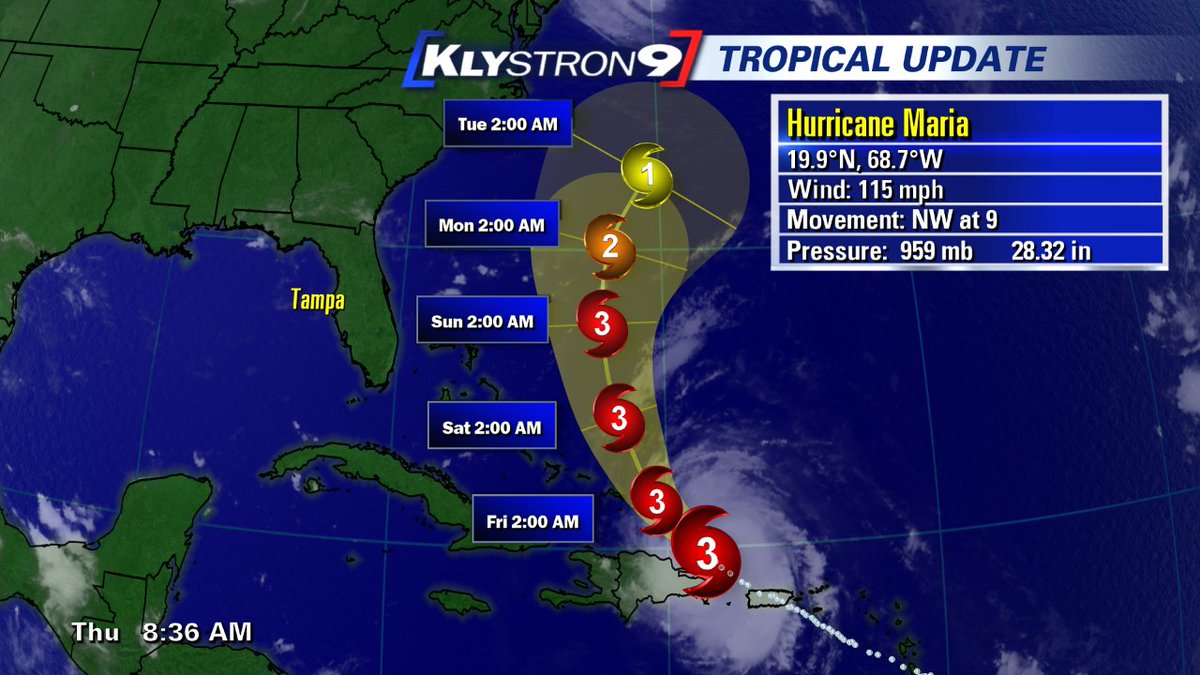 Hurricane Maria is a major hurricane again this morning. It is a Category 3 hurricane with maximum sustained winds 115 mph. It could strengthen more in the next couple of days.
Hurricane Maria made landfall Wednesday in Puerto Rico
Now a Category 3 with 115 mph winds, the storm is expected to take a northward turn
Maria continues to move away from Puerto Rico but heavy rainfall and flash flooding continue there this morning.
Maria is expected to pass offshore of the northeastern coast of the Dominican Republic today then move near the Turks and Caicos Islands and the southeastern Bahamas tonight and Friday. Hurricane Warnings are in effect for those areas where Maria is expected to bring dangerous wind, storm surge and heavy rainfall.
The government of the Bahamas has issued a Tropical Storm Watch for the central Bahamas. All other watches and warnings remain the same.
Maria is expected to stay well east of Florida.  As it moves northward it will likely weaken a bit as it heads into some wind shear and slightly cooler waters next week.
HURRICANE MARIA
SUMMARY OF 800 AM INFORMATION
———————————————-
LOCATION…19.9N 68.7W
ABOUT 95 MILES NNW OF PUNTA CANA DOMINICAN REPUBLIC
ABOUT 190 MILES SE OF GRAND TURK ISLAND
MAXIMUM SUSTAINED WINDS…115 MPH
PRESENT MOVEMENT…NW AT 9 MPH
MINIMUM CENTRAL PRESSURE…959 MB…28.32 INCHES
Tropical Storm Jose is in the Atlantic Ocean about 150 miles southeast of Nantucket, Massachusetts. Maximum sustained winds are 60 mph.
Jose is bringing rain and gusty winds to the coast of southeastern New England. Tropical Storm Warnings are in place there including Cape Cod, Block Island, Martha's Vineyard, and Nantucket.
A wind gust to 48 mph was recently reported at the Nantucket Airport.
Jose is expected to meander off the coast of New England for several days and gradually weaken but it will continue to bring dangerous surf and rip currents to the U.S. east coast.
TROPICAL STORM JOSE
SUMMARY OF 800 AM INFORMATION
———————————————-
LOCATION…39.6N 68.1W
ABOUT 150 MILES SE OF NANTUCKET MASSACHUSETTS
MAXIMUM SUSTAINED WINDS…60 MPH
PRESENT MOVEMENT…STATIONARY
MINIMUM CENTRAL PRESSURE…982 MB…29.00 INCHES
http://www.baynews9.com/content/news/baynews9/news/article.html/content/news/articles/bn9/2017/9/21/tropics_hurricane_ma.html