RAW: At least 8 dead, 9 injured as fire breaks out at chemical plant in China
Published on Jun 5, 2017
At least eight people died and nine were injured when a fire broke out at the Linyi Jinyu Petrochemical Company plant in Linyi, Shandong province, Monday. Reportedly the blaze was set off by an explosion of a liquefied gas tanker in the plant's loading area. More than 900 firefighters were deployed to tackle the fire.
---
ANOTHER CHEMICAL PLANT GOES UP IN FLAMES IN CHINA
Massive fire at China chemical plant: Insanely huge cloud of smoke covers Hubei province  VIDEO
Published on May 31, 2016
A chemical plant in central China's Hubei Province caught fire . The local environmental department said that the air pollution is controlled at a relatively safe level. No casualties have been reported so far.
---
WHO OR WHAT IS CAUSING ALL THESE (6) CHEMICAL PLANT EXPLOSIONS IN CHINA?
–
–
A massive explosion at a fireworks plant in southern China has killed three people and injured 53 (again?)
–
BEIJING — A massive explosion Wednesday at a fireworks plant in southern China killed three people and injured 53, while shattering windows of homes in the area, officials and state media reports said.
One additional person was missing from the blast that shook Hongsheng Fireworks Plant in a village outside the city of Shangrao in Jiangxi province, state-run Xinhua News Agency said. A local government confirmed the incident on its official website and said that about 1,000 people were evacuated from the area.
The blast was so strong that doors and windows of residential homes in the area were destroyed with glass shards scattered around, the district government of Guangfeng said.
SOURCE:
https://investmentwatchblog.com/a-massive-explosion-at-a-fireworks-plant-in-southern-china-has-killed-three-people-and-injured-53-again/
–
Published on Jan 19, 2016
Four people were missing and 25 others were injured after blasts swept a fireworks plant in E. China's Jiangxi Province early on Wednesday.
The first blast ripped through a workshop of Hongsheng fireworks factory in Kunshan village in Guangfeng district, Shangrao city at around 0:30 am Wednesday. Several blasts followed.
The missing people were a cook, a guard and ware house workers. Rescuers have managed to pull out 21 people in the dormitory area of the plant.
Over 1,000 people nearby were evacuated to safe areas after the blasts.
The Guangfeng area has a history of more than 300 years in fireworks production.
–
WHO'S BLOWING UP ALL THE CHEMICAL PLANTS IN CHINA?
–
FIFTH blast and fire at a chemical plant in China THIS YEAR?
–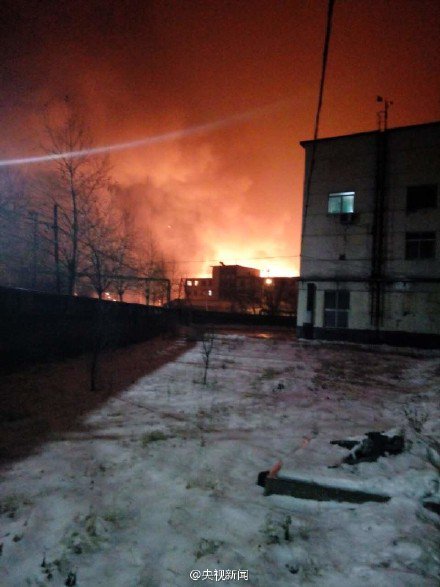 –
A blast has been reported at a pesticide plant in the city of Jilin, Jilin Province in northeastern China. A fire has broken following the explosion, with emergency crews now working at the scene.
Authorities have issued a warning for the locals not to approach the plant area, Chinese Sina news reported.
There have been no immediate reports of casualties or toxic leaks.
Jilin Province borders North Korea and Russia.
DETAILS TO FOLLOW
–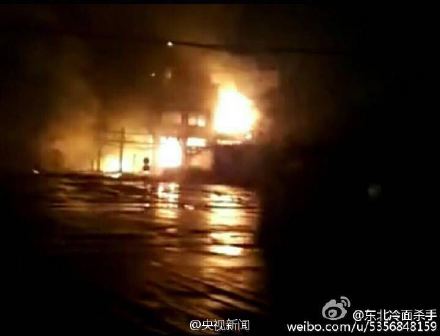 –
IS THE US TESTING A KILLER SATELLITE?
–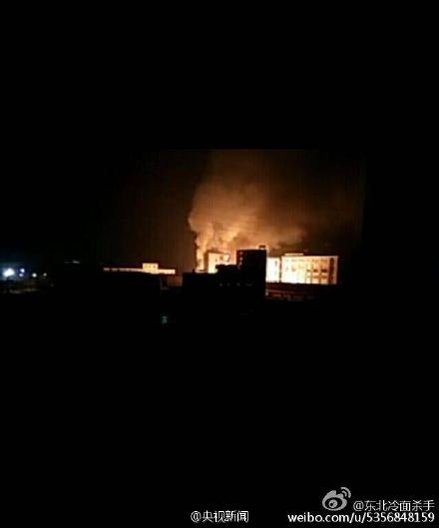 –
Massive blasts rock Chinese city of Tianjin; 44 dead, hundreds injured
–
China blast hits Shandong chemical plant
http://www.bbc.com/news/world-asia-china-34029202
–
Blast & fire reported at chemical factory in China's Liaoning province
17 Nov, 2015
https://www.rt.com/news/322440-blast-chemical-plant-liaoning/
–
–