Copenhagen's famous 'Little Mermaid' statue has been vandalized by animal rights activists calling on Denmark to put an end to the slaughter of pilot whales in the Faroe Islands.
The bronze statue, which sits on a rock by the waterside at Copenhagen's Langelinie promenade, was spray-painted red on Tuesday.
Those behind the act made their motivation clear, leaving a spray-painted message on the pavement in front of the monument.
"Danmark [sic], defend the whales of the Faroe Islands," the message stated.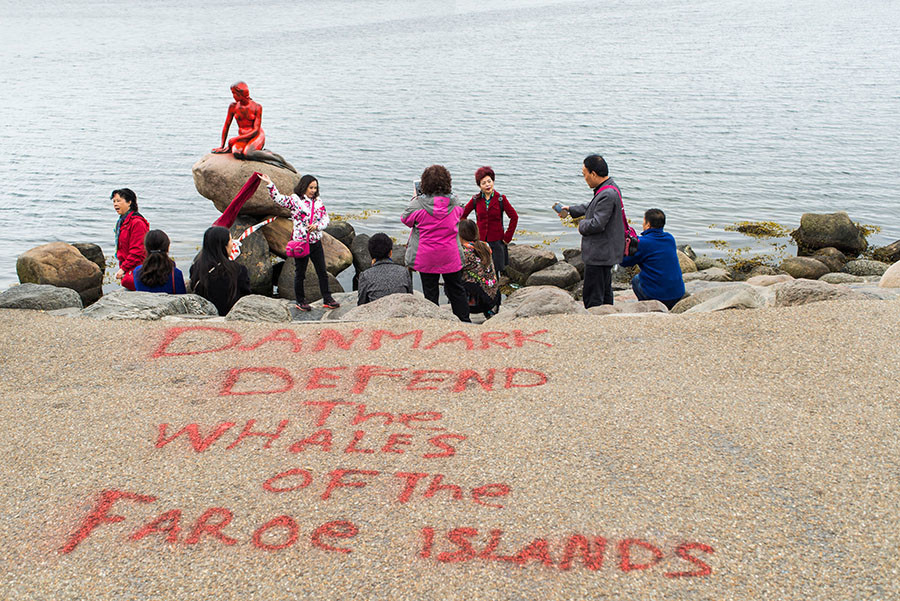 Copenhagen police acknowledged the incident on Twitter, stating: "The Little Mermaid was targeted by vandalism. We are on the case," as translated by the Local.
Denmark has long been pressured by animal activists to put an end to a practice known as Grindadráp, or Grind, in the Faroe Islands. Pilot whales are led into a bay or fjord where they are then killed by hand. The meat and blubber are then distributed to residents.
READ MORE: Norway kicks off annual whale hunt with 999 quota
Earlier this month, Sea Shepherd Netherlands submitted a request to the European Commission to launch "infringement proceedings" against Denmark. It alleged that Danish police, naval, and customs officials have been "facilitating and even actively participating in the Grind," which violates the EU's Habitats Directive on the Conservation of Natural Habitats and of Wild Fauna and Flora.
It added that "the government of Denmark has shown it's willing to do whatever it can to ensure that the slaughter continues."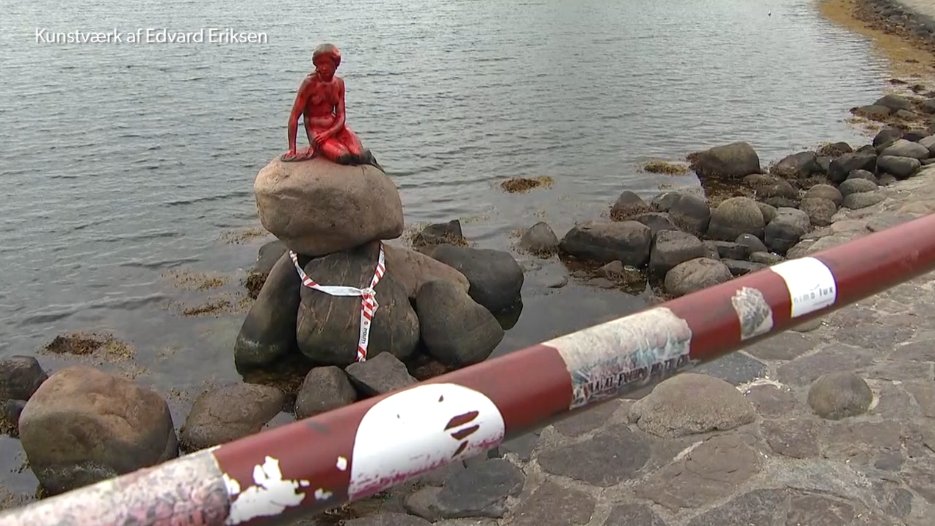 MORE
https://www.rt.com/news/390170-copenhagen-little-mermaid-statue/
---
In 1968 the HEAD of Copenhagen's 'Little Mermaid' statue was sawed off

Little Mermaid's head found


The Little Mermaid is Denmark's best known landmark
The head of Copenhagen's famous Little Mermaid has turned up, three days after being sawn off by radical feminists.
The bronze head was delivered to a Danish television station on Friday by a hooded man.
A freelance cameraman who got a tip-off about the statue's decapitation before dawn on Tuesday was also informed of the return and was on the scene to film the mysterious man dropping it off at TV2 in Copenhagen.
No arrests have been made but police say they are examining the head for fingerprints and forensic evidence.
The statue, which is based on a Hans Christian Andersen tale, draws about a million visitors a year to the harbourside park in Copenhagen where it normally sits looking out to sea.
Danes consider it as much a national symbol as the Eiffel Tower is to the French or Big Ben to the British.
When told of the head's return, Copenhagen's chief architect Otto Kaeszner said: "That's great . We'll save lots of money."
He said a new head would have cost about 80,000 kroner ($14,000).
The Little Mermaid, erected in 1913, had its head sawn off once before in 1964.
The head was never found and was replaced with another which was modelled on the original.
No-one was arrested on that occasion, although several people including a radical artist have claimed responsibility.
One of the statue's arms was also cut off in 1983.
The Radical Feminist Fraction, a previously unheard of group which claimed responsibility for Tuesday's vandalism, said they had done it to highlight men's fixation with women's bodies.
They said they wanted to "create a symbol of sexually-fixated and misogynist male dream of women as bodies without heads".
But Danish police are not convinced that the claim is genuine and they are still investigating the incident.
http://news.bbc.co.uk/2/hi/in_depth/46038.stm